B-Dermis - Boite de 8 sachets de 700 g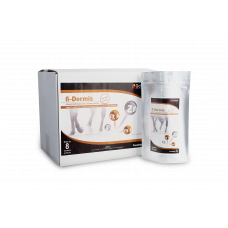 MODE D'EMPLOI :
ß-Dermis s'utilise pour régénérer le terrain cutané, les sécheresses de la peau et les crevasses.
ß-Dermis est riche en anti-oxydants. Il est recommandé de faire réaliser un profil biochimique par le vétérinaire afin d'évaluer le statut en anti-oxydants (d-ROMS, OXY).
A mélanger à la ration.
Pour les chevaux adultes : 100 g par jour par animal, pendant 8 semaines.
To view product informations and place your order, you need to be connected (restricted access to veterinarians)
The informations displayed on this website are not a substitute for all mandatory labelling indications. Please contact us to find out about the updated compositions and additive contents of our products.